I went for a run this morning and on the way back I noticed a man and his dog walking in front of me. The dog was stopping at every tree, marking its territory and moving along its jolly way. I stopped and petted the dog, a friendly one, as Labrador Retriever's are. You can tell by looking at a dog most of the time whether it is friendly or not. When it comes to American foreign policy though, how do most of the rest of the world view us? Do they view us as a Labrador Retriever, or as a uncontrollable Rottweiler? (no offense to owners of Rottweiler's who have tame Rottweiler's, but those dogs scare me when I walk by them!)
For me, our foreign policy is one of the uncontrollable Rottweiler, strolling from country to country and pissing on it with our misguided intelligence and inept congress and President who don't understand the consequences of their actions, but do the dirty business of some figurehead in the CIA or Military who said to do it. This is what has occurred the last 50 or so years, beginning with Congress not declaring wars in Korea, Vietnam, Iraq and Afghanistan (although with the latter, Congress passed in 2001 the Authorization for Use of Military Force, basically allowing George W. Bush to do what he wants, subsequently giving the green light to attack Iraq without Congressional declaration).
Who Let the Dogs Out?
Who died and gave the American government authority to police the world? Why is it we American taxpayers fund such action? The government works for us I remind you. I didn't vote for any policeman of the world government and I didn't vote for wars in other countries or the bombing via drones of other countries. This is a rogue government activity and is frowned upon by the entire world…but not the U.S. media that keeps our minds distracted with nonsensical Hollywood lives and racial situations at home or some murder investigation.
What's important to you America? Does salvaging our reputation mean anything? Have you ever asked a foreigner while traveling what they think of the U.S.? How do you think you'll be viewed in Pakistan where they have been Drone bombed 330 times resulting in 859 civilian casualties for the past few years (see graphic below)? I know Pakistan isn't high on my list of places to visit. And I don't think I'll be going to see the Egyptian Pyramids anytime soon either.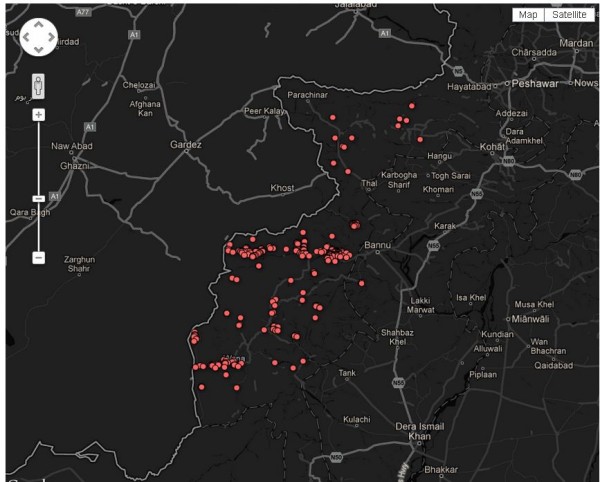 Why can't our leaders approach other countries like the dog that wants to be petted and allow other countries to sniff our butts? (come on, I had to include that analogy!)… How hard is it to really sit down and talk to our neighbors? Why did every other country end slavery without war? Why did we have to go to war? Didn't the foreign policy of Reagan bring down the Berlin wall and end the cold war as well without any nuclear bombs going off? Are we afraid to talk to Iran because they are so "evil" when they are the ones who haven't even bombed another country? Who looks evil in the following graphic?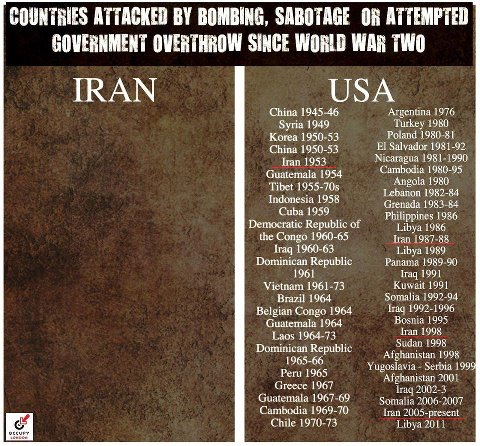 Where are the victories for the U.S. in the above graphic? Was the Iraq war a victory? If so, was it worth the thousands of U.S. lives and Iraqi lives to claim victory?
The victorious strategist only seeks battle after the victory has been won, whereas he who is destined to defeat first fights and afterwards looks for victory.

Sun Tzu
The American Foreign Policy dogs go along their merry way, pissing on tree after tree and not looking back at the disgusting stench they have left at the root of the tree. Then time goes by and they come to that tree once more and piss on it again (Iraq). This is the sad case of foreign policy and Americans just sit there and let the CIA, Congress and the rest of our government run willy nilly with the only result being blowback which we are now seeing come to fruition, set off by a movie that was made by some nobody about Muslims. The movie isn't the issue. It's our foreign policy that is! There is no "winning" in these kinds of wars. There is no victory. There is only death and destruction.
When Is Enough Enough?
If a dog pisses on the carpet, you get upset right? That's how many in other countries who are getting shelled in the "hunt for al-Qaeda." This is where the term "Blowback" comes from, a term invented by the CIA which refers to "the unintended results of American actions abroad." Guess what else is a CIA made up term? Al qaeda.
I remember four years ago debating the neo-conservatives on Michelle Malkin's site "Hot Air" and over at MichelleMalkin.com. When I brought up anything negative about our foreign policy, they would immediately call me a Leftist. So I had to have a disclaimer before indulging into a debate with someone saying, "I'm not a Leftists, Conspiracy Nut, and I don't wear a tinfoil hat!" This is what neo-conservatives do when they are challenged. They try to label you. And then when you use the Constitution or other verified information to prove your point, they just ignore it and continue their pro-war stance.
Look what it has got you Republicans! You are the shame of America, but luckily there is a book coming out soon that can turn this reputation around.
It was in one of these debates that I brought up how Al qaeda was created by the CIA. Here we are four years later and people still would call you a conspiracy nut if you said Al qaeda is a CIA creation. Yet our own Secretary of Defense, Hillary Clinton has admitted this as the following video clip shows (please pay attention to how the U.S. foreign policy now plays both sides of Al qaeda – you can't make this stuff up!).
The Result of Our Loud Bark/Bite
Now that we have gone into Iraq under false pretenses and rid the country of what admittedly was a bad person, and set up camp there, how are things in Iraq? Recently I wrote about it in an article Will Romney and the Republicans Lose In November? when I said that things are still a mess in Iraq as bombings occur quite frequently as this, this and this story reveal from just that last two months.
But for those who don't care about other countries as you may believe we are fighting everywhere to maintain our military supremacy, what is the effect of this policy on your own soldiers who do your/our fighting? July was the worst month yet for our soldiers killing themselves (suicide). You don't hear much about that in the media now do you?
What Are We Really Fighting For?
One must ask, has it all been worth it? Has the last decade of attacking all these Muslim countries and threatening other countries really been the result of retaliation for what happened to us on 9/11?
I have a series of questions I'd like for you to ask the neo-conservative faction of the Republican Party who are attending the upcoming Value Voters summit in mid October. These are the ones in attendance who are allegedly for the wars and our current foreign policy (an extension of George W. Bush's) of policing the world and threatening (insert country here), but mainly Iran;
1. Are you a Christian?
2. Are you pro-life and against the killing of the unborn child?
3. How many people died on 9/11? (answer about 3000)
4. How many American Soldiers have died in Iraq and Afghanistan since the wars began? (answer about 6,600)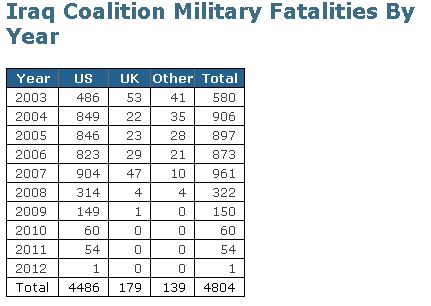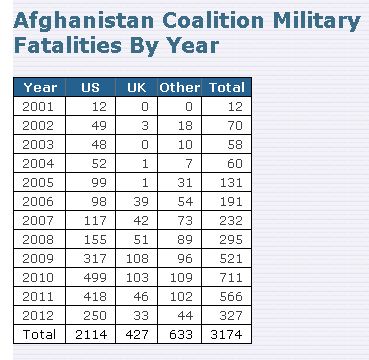 5. How many foreign civilian deaths have there been in the Iraq and Afghanistan wars?" (the answer is over 100,000 for Iraq and 10's of thousands for Afghanistan) – somewhere around 130,000 is a conservative estimate.
6. Then say this to the neoconservative; …"Before you said you were pro-life right? So are you pro-life just for the innocent unborn only, or are the 10's of thousands of civilians killed from participation in these wars something a pro-life advocate shouldn't be concerned about?
7. In passing, because they know by this time you are pressing their buttons and probably have called you a liberal, ask; "How many of our soldiers have to die to compensate for the 3,000 who died on 9/11? What's a good number? Is it 6,600, the current number of U.S. soldiers killed in these wars? 10,000? 50,000? How many innocent women and children have to die and for what purpose?"
8. If they are still listening, ask them; "How do you interpret God's commandment of "Thou Shalt Not Kill?" or What is your interpretation of the golden rule and how does it differ from what the Bible says in Leviticus 19:18 – "Thou shalt not avenge, nor bear any grudge against the children of thy people, but thou shalt love thy neighbour as thyself"…?
9. How much more do you think our nation can go into debt to support our current foreign policy? Is $1 trillion, the amount we have spent so far enough? How about $2 trillion?
Our Foreign Policy Should Act Like the Dog that Play's Dead for Awhile
From an economic standpoint, Romney wants to increase the amount spent on the military once elected and Obama just surpassed 8 years of George Bush spending with the continued war in Afghanistan that he sent more troops to die in, and his continued drone bomb attacking of Pakistan and other nations. Because neither the left or right understand the consequences of their spending (or of wars), Moody's has warned of a possible downgrade since neither side can come up with a budget to pay for everything (including our military industrial complex) before the January 13th fiscal cliff.
Maybe it's time for the foreign policy to act like the dog when commanded to "play dead" for awhile. For if we don't, we just may wake up the sleeping dog known as China.
Best to let a sleeping dog lay. Wouldn't want China to start bombing other countries now would we? Best to leave that up to the CIA. They know what they're doing right?
But just imagine for a moment if there was no CIA. Would Muslims all of a sudden take up arms and take over every country? Is this what the neo-conservatives are afraid of? Or would we all just get along as we have for 1,000's of years?
Don't be fooled by the propaganda coming out of the U.S. media. Do your own research online. Read and read and read some more. And learn to love unconditionally like a dog does its master.